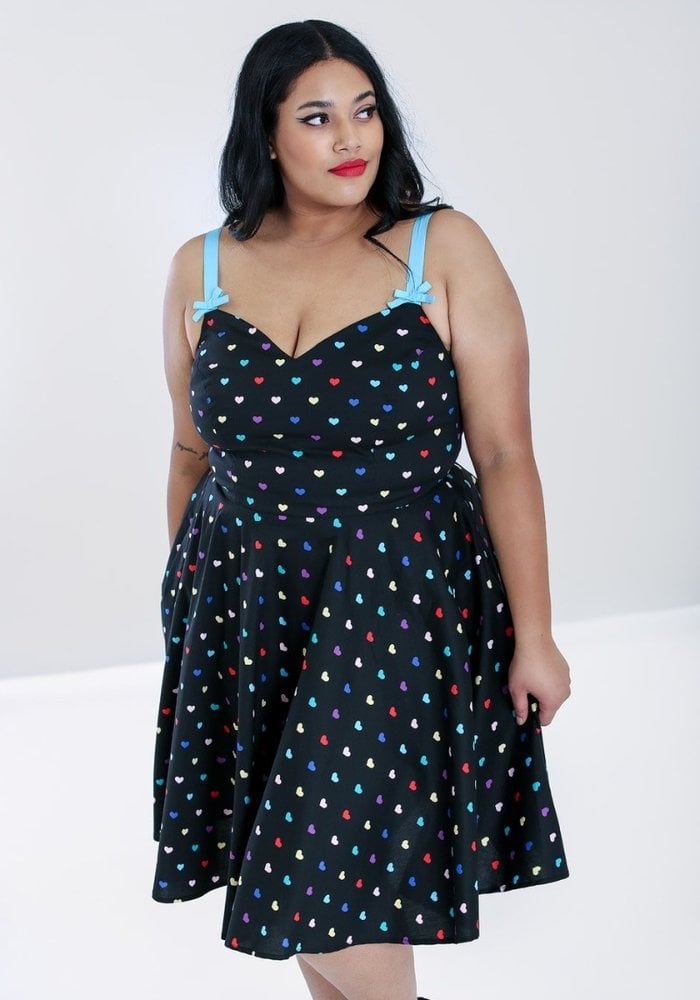 Robe True Love Noire
0 reviews
Description
 The True Love dress in black is a great 50's style dress decorated with rainbow coloured polka hearts. She has a modest sweetheart neckline tops a flattering fitted bodice and flared skirt. To had a practical side to this beauty, she has discreet pockets in the side seams because we know what our gals want. The light blue contrasting, adjustable straps for your comfort embellished with pretty bows, the straps has a nice thickness providing more support. Add vintage volume & a pop of colour with the red Starlite petticoat.
The True Love dress maintenance is easy, just wash it separately in cold water and hang to dry. ***Tip: During the first wash, put 1/8 of a cup of white vinegar in the washing machine to help fix the color to keep it for a long time.  
Fabric content: 98% Cotton 2% Elastane, but what you really want to know is yes, this dress has plenty of stretch!
Size guide is in inches.
2XL
Bust :43.9
Waist:36.4
Hips: 47.4
3XL
Bust :46.9
Waist:39.4
Hips:50.4
4XL
Bust :49.8
Waist:42.3
Hips: 53.3
Fit true to size, Penelope is 5.7ft and wears a size 3XL.