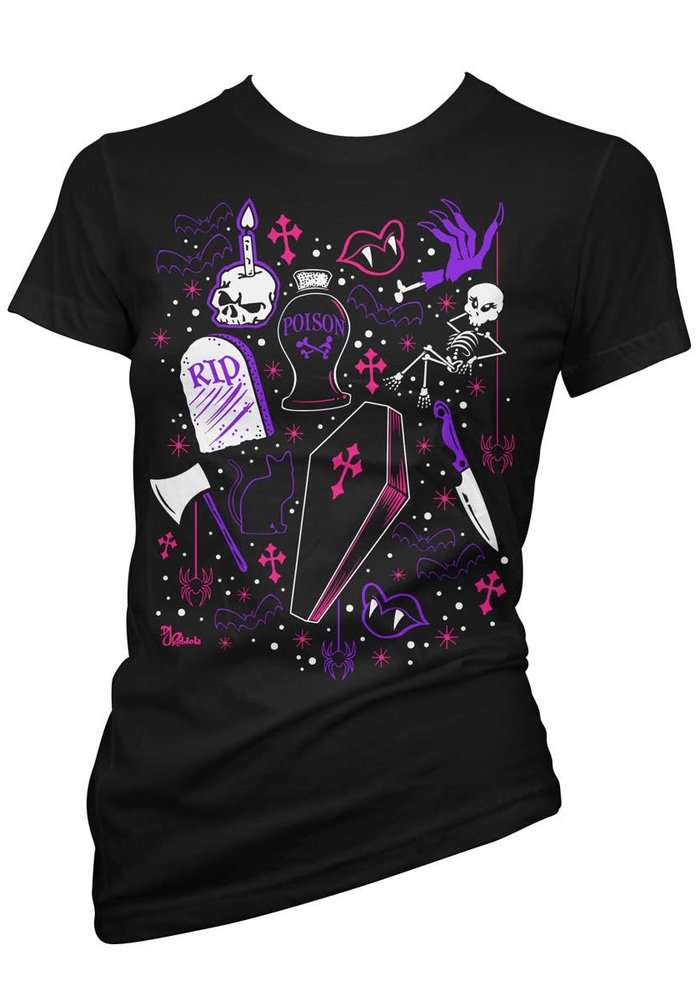 Black Flash Art T-Shirt
Size chart
Size chart
The chest measurement is taken at the point of the breasts, without tightening the tape measure.
The waist circumference is taken where the waist is thinnest.
Tips: if the waist is not marked, measure the circumference 5 cm above the navel.
Hip circumference is taken at the widest point of the pelvis and buttocks.
Tips: measure the rate five centimeters below the navel.
Description
One For the devilish cutie in you!
This T-shirt is perfect with high-waisted jeans like the Midge Jeans model or even a pencil skirt for an instant retro look.

Material: 100% cotton, made more adjusted than the other models, if you are not sure about the sizing you may want to take a bigger size.
***Tip: During the first wash, put 1/8 of a cup of white vinegar in the washing machine to help fix the color and to keep it for a long time. 

Care: Machine wash in cold water with colours | Do NOT bleach | Turn inside out | Tumble dry low | Do not iron prints/decorations.
Fitting advice: The fit is generally Women's Junior but do you :)
Sizing:
S-       BUST: 32-37 INCHES  WAIST: 30-34 INCHES 
M-      BUST: 34-40 INCHES  WAIST: 32-36 INCHES 
L-       BUST: 36-42 INCHES  WAIST: 34-38 INCHES 
XL-     BUST: 38-44 INCHES  WAIST: 35-39 INCHES 
2XL-   BUST: 44-50 INCHES  WAIST: 40-44 INCHES
3XL-   BUST: 46-52 INCHES  WAIST: 44-50 INCHES