IN KITSCH'N SWELL'S CLOSET
The Chevy 50's top is handmade in our boutique, here in Montreal. It is a bestseller because it fits all figures and shapes, is stretchy and versatile. We are so proud of this piece that flies off the shelves. We named it the Chevy 50's top because the front of it reminded us of an old Chevy wagon. Wear yours with the Marie Skirt that is made of the same fabric. Together, they look like a dress and are perfect for a chic event.
Also available in BLACK
√ HELP? CLICK HERE TO TAKE YOUR MEASUREMENTS
√ MEASUREMENTS ARE IN INCHES.
√ THE DASH (-) REPRESENTS THE STRETCHING CAPACITY OF THE FABRICS.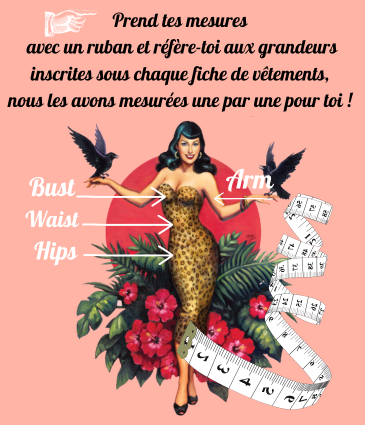 SIZING:
XXS-   BUST: 28-32 INCHES   WAIST: 23-25 INCHES 
XS-     BUST: 30-34 INCHES   WAIST: 24-28 INCHES 
S-       BUST: 32-36 INCHES   WAIST: 26-30 INCHES 
M-      BUST: 34-38 INCHES    WAIST: 28-32 INCHES 
L-       BUST: 36-40 INCHES    WAIST: 30-34 INCHES 
XL-     BUST: 38-42 INCHES    WAIST: 32-36 INCHES 
2XL-   BUST: 40-44 INCHES    WAIST: 34-38 INCHES 
3XL-   BUST: 42-46 INCHES    WAIST: 36-40 INCHES 
FABRIC: BANGALINE -polyester, cotton, rayon, spandex
CARE: wash in machine or manually in cold water and hang to dry